3Com 3C16721A OfficeConnect Hub TP1200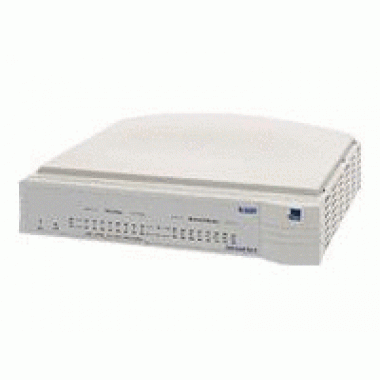 The OfficeConnect Fast Ethernet Hub 4, Hub 8, and Hub 12
are ideal for creating small, fast (high bandwidth) networks.
They are compact and attractively designed for desktop use.
These products are part of the OfficeConnect range, which
neatly stack together with the OfficeConnect Stacking Clip.
When referring to all three products, this guide uses the
term 'OfficeConnect hub'.
The OfficeConnect hub is a Fast Ethernet (Class II) repeater,
allowing the creation of a network that runs 10 times faster
than standard Ethernet. You can connect a workstation,
server or other piece of equipment to each 100BASE-TX
port, as shown in Figure 1. The Hub 4 has four 100BASE-TX
ports, the Hub 8 has eight, and the Hub 12 has twelve.
This 3Com 3C16721A OfficeConnect Hub TP1200 is brand new, never opened, and contains all original packaging and documentation.
Every new 3Com 3C16721A for sale is fully guaranteed by our 90-day extensive warranty, and may be additionally covered by the original manufacturer's warranty. Please feel free to contact us regarding our inventory of new, used, and refurbished 3Com network equipment, or if you have any additional questions regarding this 3C16721A OfficeConnect Hub TP1200.
Shipping Policies
US Orders: Orders for this 3Com 3C16721A within the USA which qualify for Free Super-Saver Shipping are shipped at our discretion via the lowest cost method. This can be FedEx, UPS, or US Mail. Typically, orders ship within 48 hours.
3Com 3C16721A OfficeConnect Hub TP1200 units which are shipped internationally have a mandatory 5-10 business day security holding period between payment being received and shipment processing. This security policy is to allow funds to fully clear our bank account.
Does HardwareJet.com offer expedited shipping?
Yes, HardwareJet.com can usually provide expedited (1 or 2 day shipping) for 3Com products, however there is an additional expedite fee per unique 3Com 3C16721A OfficeConnect Hub TP1200 in addition to the product fee and expedited carrier shipping charges. We can only provide expedited shipping to addresses within the USA. If we can offer expedited shipping for an item, expedited shipping costs will be shown at checkout. If we can not provide expedited shipping for an item, then you will not be presented with these options during the cart checkout process.