3Com 3C16863 Switch 7700 20-Port 10/100/1000 RJ45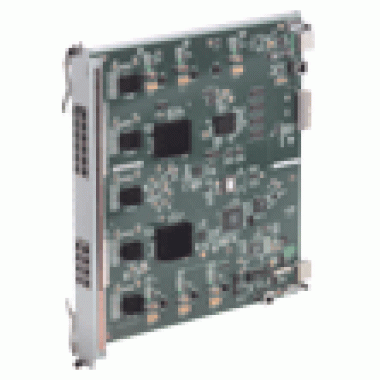 * High performance, resilient, convergence-ready, Copper Gigabit Ethernet
* This module delivers twenty ports of high-performance Gigabit Ethernet switching over Category 5 twisted-pair cable.
* Switch 7700 modules support on-board or Local Layer 2 switching, allowing packets to remain local to the module, which reduces backplane and switch fabric loading.
* This reduces congestion in the network minimizing packet loss, to enable applications to run faster across the network. The reduction in latencies will improve the quality of video and voice traffic across the network.
* Local Layer 2 switching at 40Gbps between ports on the same module
* Each module added to a chassis increases total switch performance; for example, six of these modules, when added to a Switch 7700 7-Slot or 8-Slot chassis, provides 240Gbps switching performance
* Interface transmission rates: 1Gbps (full duplex).
* Supports IEEE 802.3z, IEEE 802.3x, IEEE 802.3ad, IEEE 802.1p, IEEE 802.1D, IEEE 802.1Q.
Every refurbished, pre-owned, and used 3Com 3C16863 for sale is fully guaranteed by our extensive 90-day warranty. Please feel free to contact us regarding our inventory of refurbished 3Com networking equipment, or if you have any additional questions regarding this 3C16863 Switch 7700 20-Port 10/100/1000 RJ45.
Shipping Policies
US Orders: Orders for this 3Com 3C16863 within the USA which qualify for Free Super-Saver Shipping are shipped at our discretion via the lowest cost method. This can be FedEx, UPS, or US Mail. Typically, orders ship within 48 hours.
3Com 3C16863 Switch 7700 20-Port 10/100/1000 RJ45 units which are shipped internationally have a mandatory 5-10 business day security holding period between payment being received and shipment processing. This security policy is to allow funds to fully clear our bank account.
Does HardwareJet.com offer expedited shipping?
Yes, HardwareJet.com can usually provide expedited (1 or 2 day shipping) for 3Com products, however there is an additional expedite fee per unique 3Com 3C16863 Switch 7700 20-Port 10/100/1000 RJ45 in addition to the product fee and expedited carrier shipping charges. We can only provide expedited shipping to addresses within the USA. If we can offer expedited shipping for an item, expedited shipping costs will be shown at checkout. If we can not provide expedited shipping for an item, then you will not be presented with these options during the cart checkout process.