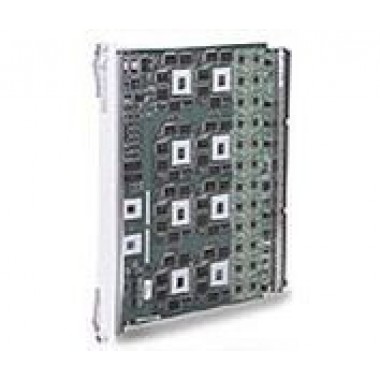 3Com 3CB9FA24
CoreBuilder 9000, 15Gbps ATM Switch Fabric Module
Manufacturer:

3Com
Part Number: 3CB9FA24
Condition: Refurbished
Warranty: 90 Days
Quantity Available: 1
Yes, we can ship this item overnight! (US Destinations Only)
The 3Com CoreBuilder 9000 enterprise switch represents a new class of LAN switch that enables IT managers to deliver a higher level of service in increas-ingly demanding environments, while, at the same time, lowering the operational costs of that network asset. The CoreBuilder 9000 switch gives IT managers a common platform that they can deploy (in different chassis sizes) across the enterprise LAN to deliver low-cost, high-density work-group access, ensure high-speed, resilient server connectivity, and create powerful, efficient back-bone interswitch links. A common platform reduces staff training and administrative overhead, and lowers maintenance costs and inventory management (by enabling redeployment and sharing of chassis interface modules). While providing commonality across the enterprise, the CoreBuilder 9000 switch expands the IT managers options for managing traffic.

Every refurbished, pre-owned, and used 3Com 3CB9FA24 for sale is fully guaranteed by our extensive 90 day warranty. Please feel free to contact us regarding our inventory of refurbished 3Com networking equipment, or if you have any additional questions regarding this 3CB9FA24 CoreBuilder 9000, 15Gbps ATM Switch Fabric Module.


Shipping Policies
US Orders: Orders for this 3Com 3CB9FA24 within the USA which qualify for Free Super-Saver Shipping are shipped at our discretion via the lowest cost method. This can be FedEx, UPS, or US Mail. Typically, orders ship within 48 hours.
3Com 3CB9FA24 CoreBuilder 9000, 15Gbps ATM Switch Fabric Module units which are shipped internationally have a mandatory 5-10 business day security holding period between payment being received and shipment processing. This security policy is to allow funds to fully clear our bank account.
Does HardwareJet.com offer expedited shipping?
Yes, HardwareJet.com can usually provide expedited (1 or 2 day shipping) for 3Com products, however there is an additional expedite fee per unique 3Com 3CB9FA24 CoreBuilder 9000, 15Gbps ATM Switch Fabric Module in addition to the product fee and expedited carrier shipping charges. We can only provide expedited shipping to addresses within the USA. If we can offer expedited shipping for an item, expedited shipping costs will be shown at checkout. If we can not provide expedited shipping for an item, then you will not be presented with these options during the cart checkout process.