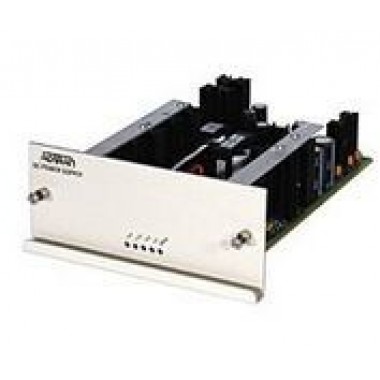 Adtran 1200048L4
250W DC Power Supply for the Smart 16 Shelf
Manufacturer:

Adtran
Part Number: 1200048L4
Condition: Refurbished
Warranty: 90 Days
Quantity Available: 2
Yes, we can ship this item overnight! (US Destinations Only)
Adtran provides a wide range of power options including this power supply that will give you proven reliability and operational safety. The power supply can be installed in either of the two slots at the top of the Smart 16e Shelf. If only one power supply is used, the blank power supply face-plate furnished with the rack should be installed over the unused slot. The Smart 16e Shelf is fully operational with one power supply; however, a second supply can be added to provide backup for the power supply subsystem. With the two-supply configuration, one of the supplies will operate in a hot-standby mode (the corresponding output on the standby supply will automatically provide the power required if any one of the four outputs from a supply fails or begins to operate out of specifications).

Every refurbished, pre-owned, and used Adtran 1200048L4 for sale is fully guaranteed by our extensive 90 day warranty. Please feel free to contact us regarding our inventory of refurbished Adtran networking equipment, or if you have any additional questions regarding this 1200048L4 250W DC Power Supply for the Smart 16 Shelf.


Shipping Policies
US Orders: Orders for this Adtran 1200048L4 within the USA which qualify for Free Super-Saver Shipping are shipped at our discretion via the lowest cost method. This can be FedEx, UPS, or US Mail. Typically, orders ship within 48 hours.
Adtran 1200048L4 250W DC Power Supply for the Smart 16 Shelf units which are shipped internationally have a mandatory 5-10 business day security holding period between payment being received and shipment processing. This security policy is to allow funds to fully clear our bank account.
Does HardwareJet.com offer expedited shipping?
Yes, HardwareJet.com can usually provide expedited (1 or 2 day shipping) for Adtran products, however there is an additional expedite fee per unique Adtran 1200048L4 250W DC Power Supply for the Smart 16 Shelf in addition to the product fee and expedited carrier shipping charges. We can only provide expedited shipping to addresses within the USA. If we can offer expedited shipping for an item, expedited shipping costs will be shown at checkout. If we can not provide expedited shipping for an item, then you will not be presented with these options during the cart checkout process.