3Com 3CP3468 3COM/US Robotics ISDN Terminal Adapter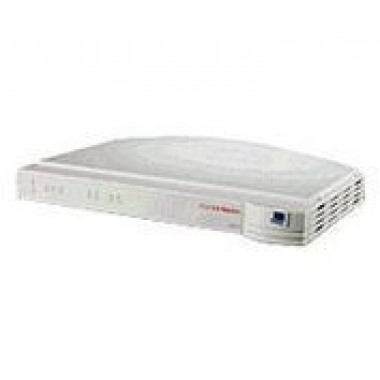 The 3Com U.S. Robotics ISDN TA puts high-speed productivity on your desktop - more working, less waiting. With ISDN service from your phone company, the ISDN TA gives you 128K digital communication with the Internet, a remote corporate network, or other computers. Thats more than double the speed of a 56K modem, four times as fast as 28.8. With compression, you could see speeds of 230.4 Kbps or more. The U.S. Robotics ISDN TA also saves you money - you can use a single ISDN line for all your home or office communications. Just connect up to six analog devices to the ISDN TA, and your telephone, fax and analog modem can all take advantage of this high-speed connection on one line. 3Com makes ISDN easy to use at home or in a small office. The 3Com ControlCenter software is the key, and its a 3Com exclusive.
Every refurbished, pre-owned, and used 3Com 3CP3468 for sale is fully guaranteed by our extensive 90-day warranty. Please feel free to contact us regarding our inventory of refurbished 3Com networking equipment, or if you have any additional questions regarding this 3CP3468 3COM/US Robotics ISDN Terminal Adapter.
Shipping Policies
US Orders: Orders for this 3Com 3CP3468 within the USA which qualify for Free Super-Saver Shipping are shipped at our discretion via the lowest cost method. This can be FedEx, UPS, or US Mail. Typically, orders ship within 48 hours.
3Com 3CP3468 3COM/US Robotics ISDN Terminal Adapter units which are shipped internationally have a mandatory 5-10 business day security holding period between payment being received and shipment processing. This security policy is to allow funds to fully clear our bank account.
Does HardwareJet.com offer expedited shipping?
Yes, HardwareJet.com can usually provide expedited (1 or 2 day shipping) for 3Com products, however there is an additional expedite fee per unique 3Com 3CP3468 3COM/US Robotics ISDN Terminal Adapter in addition to the product fee and expedited carrier shipping charges. We can only provide expedited shipping to addresses within the USA. If we can offer expedited shipping for an item, expedited shipping costs will be shown at checkout. If we can not provide expedited shipping for an item, then you will not be presented with these options during the cart checkout process.