Adtran 1200065L1 DS1 CSU/DSU Drop and Insert Card for TSU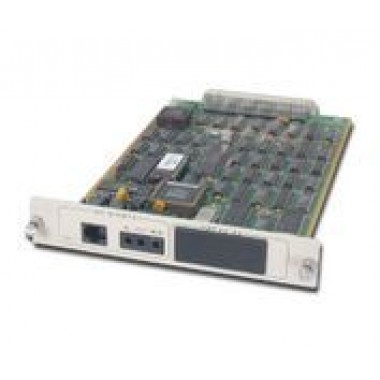 AdTran 1200.065L1 or 1200065L1, a single port DS-1 T1 drop and insert card with option for one more port. Can only be installed in slot 6 of TSU-600 and TSU-600e. The Drop and Insert (D&I) Module from Adtran provides a secondary T1 (1.544 Mbps) interface to telco or to private T1 facilities. By adding the D&I Module to a TSU Multiplexer, the user has the capability to support two independent T1s for data, voice, or video, eliminating the need for a second multiplexer. The module provides the capability to selectively insert and extract channels between the primary T1 interface on the TSU Multiplexer and the secondary T1 interface on the module. This allows for the connectivity of two remote sites through a central site. The module operates with either AMI/B8ZS coding or D4/ESF framing.For easy configuration, the D&I Module options are programmed using the front panel, a VT 100 terminal interface or the optional Windows-based T-Watch PRO software. The module can be configured remotely via the FDL (ESF circuits only) when attached to a local TSU multiplexer using T-Watch PRO. The TSU, TSU LT, TSU ESP, TSU 100, TSU 120, TSU 600 and TDU 120e are intelligent, full-featured T1 DSU/CSUs, designed to interface customer DTE to T1 or Fractional T1 services. These devices can be used to terminate the far end of the D&I T1 circuit. The Drop & Insert Module is one of many application-specific modules available for the TSU Multiplexer. The ability to combine different expansion modules with plug-on units provides a variety of interface port combinations for voice, data, dial backup and video applications.
Every refurbished, pre-owned, and used Adtran 1200065L1 for sale is fully guaranteed by our extensive 90-day warranty. Please feel free to contact us regarding our inventory of refurbished Adtran networking equipment, or if you have any additional questions regarding this 1200065L1 DS1 CSU/DSU Drop and Insert Card for TSU.
Shipping Policies
US Orders: Orders for this Adtran 1200065L1 within the USA which qualify for Free Super-Saver Shipping are shipped at our discretion via the lowest cost method. This can be FedEx, UPS, or US Mail. Typically, orders ship within 48 hours.
Adtran 1200065L1 DS1 CSU/DSU Drop and Insert Card for TSU units which are shipped internationally have a mandatory 5-10 business day security holding period between payment being received and shipment processing. This security policy is to allow funds to fully clear our bank account.
Does HardwareJet.com offer expedited shipping?
Yes, HardwareJet.com can usually provide expedited (1 or 2 day shipping) for Adtran products, however there is an additional expedite fee per unique Adtran 1200065L1 DS1 CSU/DSU Drop and Insert Card for TSU in addition to the product fee and expedited carrier shipping charges. We can only provide expedited shipping to addresses within the USA. If we can offer expedited shipping for an item, expedited shipping costs will be shown at checkout. If we can not provide expedited shipping for an item, then you will not be presented with these options during the cart checkout process.