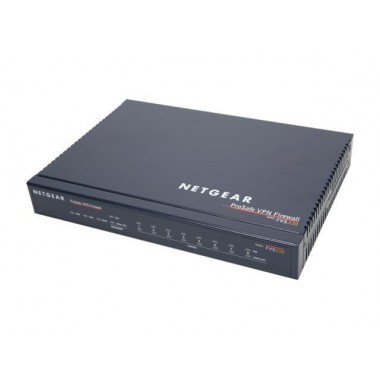 Netgear FVS338
FVS338NA ProSafe VPN Firewall
Manufacturer:

Netgear
Part Number: FVS338
Condition: Refurbished
Warranty: 90 Days
Quantity Available: 5
NETGEAR's ProSafe VPN Firewall with 8 Port 10/100 switch and Dial Back-up is an SNMP-Manageable, high-performance network solution that furnishes multidimensional security. Fully equipped and broadband-capable, this Virtual Private Network (VPN) firewall comes with connection insurance: a built-in serial port for dial-up access. This practical feature means your business can maintain operation if your broadband Internet connection fails. It lets you retain an analog modem for emergency backup and also provides a migration path from analog to broadband, making the transition effortless.

High on security, this true firewall provides Denial of Service (DoS) protection and Intrusion Detection using Stateful Packet Inspection (SPI), URL keyword filtering, logging, reporting, and real-time alerts. It supports up to 50 IPSec VPN tunnels simultaneously using Public Key Infrastructure (PKI), reducing your operating costs and improving the security of your network. With 8 auto-sensing, Auto Uplink switched LAN ports and Network Address Translation (NAT) routing, up to 253 users can access your broadband connection at the same time. Quality of Service (QoS) ensures your voice and multimedia traffic are properly prioritized.

Every refurbished, pre-owned, and used Netgear FVS338 for sale is fully guaranteed by our extensive 90 day warranty. Please feel free to contact us regarding our inventory of refurbished Netgear networking equipment, or if you have any additional questions regarding this FVS338 FVS338NA ProSafe VPN Firewall.


Shipping Policies
US Orders: Orders for this Netgear FVS338 within the USA which qualify for Free Super-Saver Shipping are shipped at our discretion via the lowest cost method. This can be FedEx, UPS, or US Mail. Typically, orders ship within 48 hours.
Netgear FVS338 FVS338NA ProSafe VPN Firewall units which are shipped internationally have a mandatory 5-10 business day security holding period between payment being received and shipment processing. This security policy is to allow funds to fully clear our bank account.
Does HardwareJet.com offer expedited shipping?
Yes, HardwareJet.com can usually provide expedited (1 or 2 day shipping) for Netgear products, however there is an additional expedite fee per unique Netgear FVS338 FVS338NA ProSafe VPN Firewall in addition to the product fee and expedited carrier shipping charges. We can only provide expedited shipping to addresses within the USA. If we can offer expedited shipping for an item, expedited shipping costs will be shown at checkout. If we can not provide expedited shipping for an item, then you will not be presented with these options during the cart checkout process.