3Com 3C37000 CoreBuilder 7000 Managed Network Switch Chassis CellPlex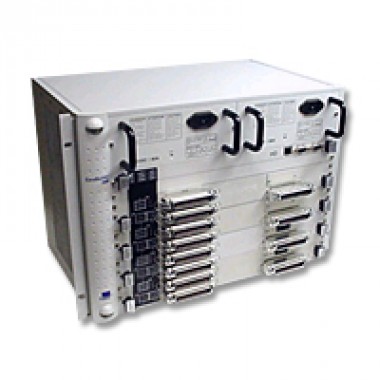 The CoreBuilder 7000 ATM switch is a modular high-performance ATM (Asynchronous Transfer Mode) switch designed to dramatically boost performance in building and campus backbones and in high bandwidth workgroups. The switch can interconnect 3Com SuperStack II Switch 2700 units and can directly attach to high-performance end-stations or servers to create a seamless, high-speed Ethernet/ATM network.

The CoreBuilder 7000 greatly increases the aggregate bandwidth of a backbone or workgroup. This is accomplished using 155 Mbps OC-3c SONET/SDH interfaces to collapsed backbone devices, such as intelligent switching hubs or high-performance, multiprotocol bridge/routers, as well as to other CoreBuilder 7000 ATM switches, to form the campus ATM backbone.

Up to four 4-port interface cards can be supported simultaneously. Each card accommodates a 155 Mbps OC-3c fiber interface module, as well as a 45 Mbps DS-3 module for WAN links.

The powerful 16x16 ATM switching engine employs a cut-through, non-blocking, self-routing architecture that can handle up to 2.56 Gbps of traffic. This high-speed architecture makes it possible to support 16 full-rate links - both Point-to-Point and Point-to-Multipoint. The switchs 20.48 Gbps passive backplane enables future expansion to faster switch engines, high port-density interface cards and higher speed ports.

An on-board i960 processor handles all advanced software features including SVC (Switched Virtual Circuit) signalling and SNMP (Simple Network Management Protocol) management.

Standard LAN Emulation and signaling allow the establishment of logical workgroups independent of physical connections for more flexible management. Using this feature, you can set up workgroups composed of members from various departments or business units around the enterprise, and centralize servers into server farms for better administration.

To meet the stringent reliability requirements of mission-critical networks, the CoreBuilder 7000 ATM switch provides redundant power supplies and switch fabrics, hot-swappable modules, and automatic congestion management. These features make it an ideal building block for the ATM-based campus backbone network.

This 3Com 3C37000 CoreBuilder 7000 Managed Network Switch Chassis CellPlex is in refurbished condition and is fully guaranteed by our 90-day warranty. Please feel free to contact us regarding our inventory of refurbished 3Com networking equipment, or if you have any additional questions regarding this 3C37000 CoreBuilder 7000 Managed Network Switch Chassis CellPlex.
United States of America Shipping
Orders for this 3Com 3C37000 unit which qualify for Free Super-Saver Shipping are shipped at our discretion via the lowest cost method. We use FedEx, UPS, and US Postal Service as shipping carriers. We cannot ship this 3Com 3C37000 within the USA by billing directly to your shipper account number. All shipping charges must be pre-paid at checkout.
International / Foreign Shipping
3Com 3C37000 CoreBuilder 7000 Managed Network Switch Chassis CellPlex units which are shipped internationally have a mandatory 4-10 business day security holding period between payment being received and shipment processing. This security policy is to allow funds to fully clear our bank account. International transport costs can be charged directly to your FedEx or UPS account number. We cannot ship internationally using your TNT account number; however you can coordinate with TNT to have them pick up the shipment from our location.
Expedited and Rush Shipping
HardwareJet.com can usually provide expedited (1 or 2 day shipping) for 3Com products; however there is an additional rush fee per unique 3Com 3C37000 CoreBuilder 7000 Managed Network Switch Chassis CellPlex unit in addition to the product cost and expedited carrier shipping charges. If we can offer expedited shipping for an item, expedited shipping costs will be shown at checkout. If we cannot provide expedited shipping for an item, then you will not be presented with these options during the cart checkout process.