3Com 005686-03 5686 3Com 56K External Modem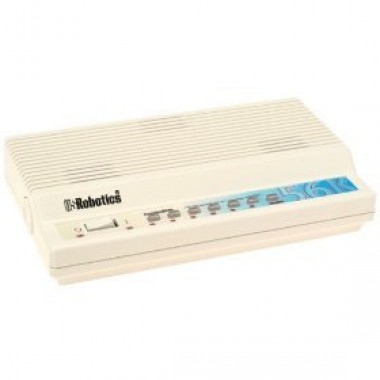 The World Wide Web offers businesses and families a range of resources no one could imagine only a few years ago. But to see the detailed graphics and lifelike motion built into today's most advanced sites, or to hear near-CD quality sound, computer users need the fastest downloads possible over analog phone lines. Now the 56K Faxmodem gives users faster downloads for a more exciting, rewarding online experience.The ITU has now decided on an international 56K standard: V.90. U.S. Robotics is the first V.90-compliant modem brand available. So U.S. Robotics modem users can now get all the Internet they want from any service provider offering either V.90 or x2 technology. The modem adds even more value to users' Internet experience: the Connections CD-ROM software collection comes with every modem. It's jam-packed with all the communications, fax and Internet access software you need; complete and sample programs for work, home and entertainment; special offers and 3Com support information. The Connections interface makes exploring and using its features quick and easy. No other modem comes with a software selection so comprehensive, useful and convenient.
Every refurbished, pre-owned, and used 3Com 005686-03 for sale is fully guaranteed by our extensive 90-day warranty. Please feel free to contact us regarding our inventory of refurbished 3Com networking equipment, or if you have any additional questions regarding this 005686-03 5686 3Com 56K External Modem.
Shipping Policies
US Orders: Orders for this 3Com 005686-03 within the USA which qualify for Free Super-Saver Shipping are shipped at our discretion via the lowest cost method. This can be FedEx, UPS, or US Mail. Typically, orders ship within 48 hours.
3Com 005686-03 5686 3Com 56K External Modem units which are shipped internationally have a mandatory 5-10 business day security holding period between payment being received and shipment processing. This security policy is to allow funds to fully clear our bank account.
Does HardwareJet.com offer expedited shipping?
Yes, HardwareJet.com can usually provide expedited (1 or 2 day shipping) for 3Com products, however there is an additional expedite fee per unique 3Com 005686-03 5686 3Com 56K External Modem in addition to the product fee and expedited carrier shipping charges. We can only provide expedited shipping to addresses within the USA. If we can offer expedited shipping for an item, expedited shipping costs will be shown at checkout. If we can not provide expedited shipping for an item, then you will not be presented with these options during the cart checkout process.