3Com 3C16702 OfficeConnect Hub TP16C (16 RJ45 Ethernet)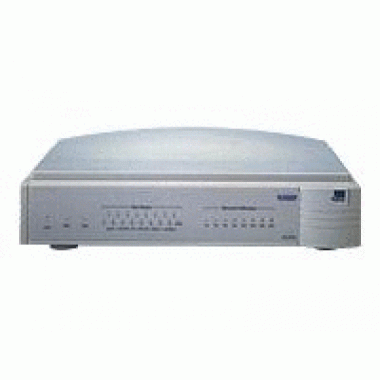 An ideal choice for small offices that need expanded network capacity without exceeding sensitive budgets, the OfficeConnect Hub TP16C provides sixteen ports with a cross-over switch that enables multiple hubs to be cascaded together. Includes one BNC connector for connectivity to coaxial network backbones. The TP16C is operational in minutes. Its 16 RJ-45 10BASE-T connections have built-in diagnostic LEDs that indicate packet receipt, packet collision, and port status. The Alert LED indicates excessive network use or a partitioned 10BASE-T port and a Bandwidth Utilization Meter monitors traffic use on the network. The TP16C's CoolCurve self-ventilating design eliminates the need for cooling fans, increasing reliability by eliminating a potential point of failure. The external power supply simplifies maintenance in the event of a power supply failure and its compact design saves space and ensures silent operation.
Every refurbished, pre-owned, and used 3Com 3C16702 for sale is fully guaranteed by our extensive 90-day warranty. Please feel free to contact us regarding our inventory of refurbished 3Com networking equipment, or if you have any additional questions regarding this 3C16702 OfficeConnect Hub TP16C (16 RJ45 Ethernet).
Shipping Policies
US Orders: Orders for this 3Com 3C16702 within the USA which qualify for Free Super-Saver Shipping are shipped at our discretion via the lowest cost method. This can be FedEx, UPS, or US Mail. Typically, orders ship within 48 hours.
3Com 3C16702 OfficeConnect Hub TP16C (16 RJ45 Ethernet) units which are shipped internationally have a mandatory 5-10 business day security holding period between payment being received and shipment processing. This security policy is to allow funds to fully clear our bank account.
Does HardwareJet.com offer expedited shipping?
Yes, HardwareJet.com can usually provide expedited (1 or 2 day shipping) for 3Com products, however there is an additional expedite fee per unique 3Com 3C16702 OfficeConnect Hub TP16C (16 RJ45 Ethernet) in addition to the product fee and expedited carrier shipping charges. We can only provide expedited shipping to addresses within the USA. If we can offer expedited shipping for an item, expedited shipping costs will be shown at checkout. If we can not provide expedited shipping for an item, then you will not be presented with these options during the cart checkout process.