3Com 3C16940A SuperStack II Switch 3000FX Network Switch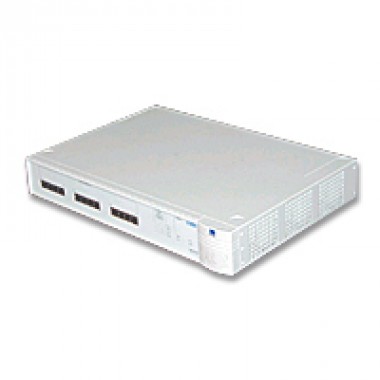 Switching is currently a leading option for increasing performance by providing high speed backbone links and eliminating server bottlenecks. Part of the 3Com SuperStack� II range of products, the Switch 3000 10/100 provides simple, low cost and high performance switched connections to Ethernet and Fast Ethernet networks.

The Switch 3000 10/100 has the following features:
Twelve auto-negotiating 10BASE-T / 100BASE-TX ports,
Plug-in Module slot (Asynchronous Transfer
Mode (ATM) and Fast Ethernet),
Support for up to 8160 addresses in the Switch Database,
Store-and-forward forwarding mode ensuring the Switch,
forwards all valid Ethernet frames and discards invalid,
Ethernet frames such as those with an incorrect CRC,
Intelligent Flow Management for congestion control,
Full Duplex on all ports, including Fast Ethernet Plug-in
Module ports,
Resilient Links,
Support for 16 Virtual LANs (VLANs),
Spanning Tree Protocol (STP) per VLAN,
PACE (Priority Access Control Enabled) for supporting multimedia applications over Ethernet.

This 3Com 3C16940A SuperStack II Switch 3000FX Network Switch is in refurbished condition and is fully guaranteed by our 90-day warranty. Please feel free to contact us regarding our inventory of refurbished 3Com networking equipment, or if you have any additional questions regarding this 3C16940A SuperStack II Switch 3000FX Network Switch.
United States of America Shipping
Orders for this 3Com 3C16940A unit which qualify for Free Super-Saver Shipping are shipped at our discretion via the lowest cost method. We use FedEx, UPS, and US Postal Service as shipping carriers. We cannot ship this 3Com 3C16940A within the USA by billing directly to your shipper account number. All shipping charges must be pre-paid at checkout.
International / Foreign Shipping
3Com 3C16940A SuperStack II Switch 3000FX Network Switch units which are shipped internationally have a mandatory 4-10 business day security holding period between payment being received and shipment processing. This security policy is to allow funds to fully clear our bank account. International transport costs can be charged directly to your FedEx or UPS account number. We cannot ship internationally using your TNT account number; however you can coordinate with TNT to have them pick up the shipment from our location.
Expedited and Rush Shipping
HardwareJet.com can usually provide expedited (1 or 2 day shipping) for 3Com products; however there is an additional rush fee per unique 3Com 3C16940A SuperStack II Switch 3000FX Network Switch unit in addition to the product cost and expedited carrier shipping charges. If we can offer expedited shipping for an item, expedited shipping costs will be shown at checkout. If we cannot provide expedited shipping for an item, then you will not be presented with these options during the cart checkout process.