3Com 3C882 20-0425-001 Impact IQ ISDN External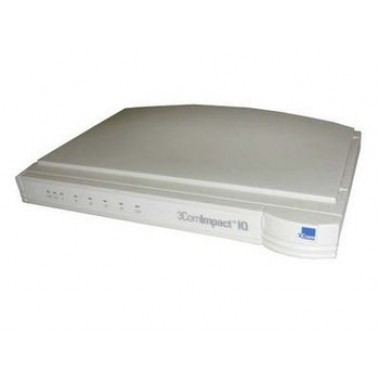 The power-packed 3ComImpact IQ modem puts you at the head of the class in digital modem performance and ease of use. Simple to install and connect to an ISDN line, this modem delivers 230 Kbps of throughput, data compression, a SPID (Service Profile Identifier) Wizard for automatic configuration, and the highest level of interoperability and standards support. The 3ComImpact IQ external ISDN modem is the smart way to browse and transfer files, graphics, video, or e-mail from the Internet and corporate intranets. Designed to connect PC and Macintosh systems to ISDN Basic Rate Interface (BRI) services, it delivers speeds up to 230,400 bps for peak performance by combining data compression with 128 Kbps data sessions and a high-speed serial interface. Especially easy to use, the 3ComImpact IQ ISDN SPID Wizard automatically sets up your ISDN line parameters.
This 3Com 3C882 20-0425-001 Impact IQ ISDN External is in refurbished condition and is fully guaranteed by our 90-day warranty. Please feel free to contact us regarding our inventory of refurbished 3Com networking equipment, or if you have any additional questions regarding this 3C882 20-0425-001 Impact IQ ISDN External.
United States of America Shipping
Orders for this 3Com 3C882 unit which qualify for Free Super-Saver Shipping are shipped at our discretion via the lowest cost method. We use FedEx, UPS, and US Postal Service as shipping carriers. We cannot ship this 3Com 3C882 within the USA by billing directly to your shipper account number. All shipping charges must be pre-paid at checkout.
International / Foreign Shipping
3Com 3C882 20-0425-001 Impact IQ ISDN External units which are shipped internationally have a mandatory 4-10 business day security holding period between payment being received and shipment processing. This security policy is to allow funds to fully clear our bank account. International transport costs can be charged directly to your FedEx or UPS account number. We cannot ship internationally using your TNT account number; however you can coordinate with TNT to have them pick up the shipment from our location.
Expedited and Rush Shipping
HardwareJet.com can usually provide expedited (1 or 2 day shipping) for 3Com products; however there is an additional rush fee per unique 3Com 3C882 20-0425-001 Impact IQ ISDN External unit in addition to the product cost and expedited carrier shipping charges. If we can offer expedited shipping for an item, expedited shipping costs will be shown at checkout. If we cannot provide expedited shipping for an item, then you will not be presented with these options during the cart checkout process.