Adtran 1200062L1 CSU/DSU 56/64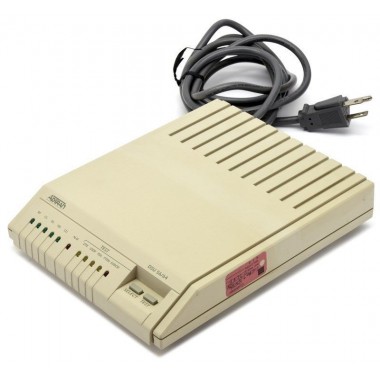 The Adtran DSU 56/64 provides a cost-effective solution for termination of 56 or 64kbps DDS services. This DSU is a very economical solution for single port point-to-point, multi-point or frame relay applications. Extensive use of VLSI technology provides a highly reliable feature-rich DSU, and the enclosure for the DSU 56/64 is a small, attractive, slim-line package that is wall mountable, rack mountable or can sit on a desktop. The DSU 56/64 provides both a physical and electrical V.35 DTE interface, which is mounted on the rear panel. The DTE interface operates at the same rate as the network, either 56 or 64kbps. Also located on the rear panel is a set of option DIP switches along with an RJ-48S network interface. The option switches allows you to select the Network/DTE data rate, control lead options, remote digital loopback, and scrambler options. It responds to standard loopback commands from the service provider, and has built-in test capabilities which include V.54 remote loopback, DTE, DTE and loop, DTE with test pattern, and loop only. Included with the remote loopback is the capability to select a 2047 BERT test pattern, with results displayed on the front panel. The front panel of the DSU 56/64 provides a set of eleven LED indicators. Five of the indicators show the status of the V.35 DTE or EIA-232 interface while the remaining LEDs indicate the various test modes and loop status. Two front panel keys allow you to select one of the several test modes the unit supports.
This Adtran 1200062L1 CSU/DSU 56/64 is in refurbished condition and is fully guaranteed by our 90-day warranty. Please feel free to contact us regarding our inventory of refurbished Adtran networking equipment, or if you have any additional questions regarding this 1200062L1 CSU/DSU 56/64.
United States of America Shipping
Orders for this Adtran 1200062L1 unit which qualify for Free Super-Saver Shipping are shipped at our discretion via the lowest cost method. We use FedEx, UPS, and US Postal Service as shipping carriers. We cannot ship this Adtran 1200062L1 within the USA by billing directly to your shipper account number. All shipping charges must be pre-paid at checkout.
International / Foreign Shipping
Adtran 1200062L1 CSU/DSU 56/64 units which are shipped internationally have a mandatory 4-10 business day security holding period between payment being received and shipment processing. This security policy is to allow funds to fully clear our bank account. International transport costs can be charged directly to your FedEx or UPS account number. We cannot ship internationally using your TNT account number; however you can coordinate with TNT to have them pick up the shipment from our location.
Expedited and Rush Shipping
HardwareJet.com can usually provide expedited (1 or 2 day shipping) for Adtran products; however there is an additional rush fee per unique Adtran 1200062L1 CSU/DSU 56/64 unit in addition to the product cost and expedited carrier shipping charges. If we can offer expedited shipping for an item, expedited shipping costs will be shown at checkout. If we cannot provide expedited shipping for an item, then you will not be presented with these options during the cart checkout process.