Adtran 1200169L1 TSU ESP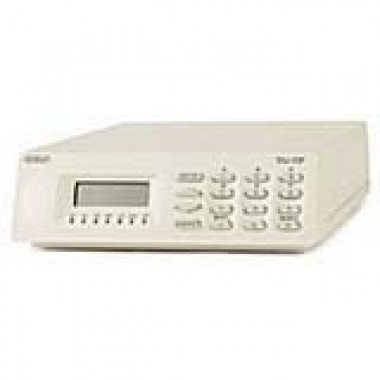 The ADTRAN TSU ESP is a full-featured T1/FT1 Data Service/Channel Service Unit (DSU/CSU) with an integral SNMP agent and optional, modular dial backup (DBU) capabilities. It provides an interface between T1 or Fractional T1 service and the customers data terminal equipment (DTE). The TSU ESP provides access to traditional dedicated point-to-point T1 circuits as well as Frame Relay services. The TSU ESP supports synchronous data rates from 56 kbps to 1.536 Mbps at Nx56 or Nx64 kbps. A single V.35 physical interface provides a connection to the end users DTE. Embedded SNMP and Telnet are available through the integral SLIP or an optional 10BaseT Ethernet port when configured with the plug-in ESP Ethernet card. Through the Management Information Base (MIB)-II standard and an ADTRAN supplied enterprise MIB, the TSU ESP can be configured and monitored using standard SNMP network management programs such as HP OpenView, Netview and SunNet Manager. The Dial Backup capability of the TSU ESP allows for automatic switched backup in the event of a dedicated T1 line failure. The Dial Backup is accomplished through a family of plug-in ESP DBU cards. Several versions of ESP DBU cards are available including 4-wire Switched 56, 2B+D ISDN, and External DCE. When a failure condition occurs on the T1/FT1, the DBU card utilizes the switched network (ISDN, 4-wire Switched 56) or DTR dialing (External DCE) to initiate a call to the remote end. The user can choose whether the unit automatically or manually reverts to the dedicated circuit when it is restored. Optional Weekend and Time of Day Dial Backup lockout options are provided in the TSU ESP DBU option menu. The TSU ESP responds to standard loopback commands from the telephone company central office. In addition, the user has several built-in test capabilities.
This Adtran 1200169L1 TSU ESP is in refurbished condition and is fully guaranteed by our 90-day warranty. Please feel free to contact us regarding our inventory of refurbished Adtran networking equipment, or if you have any additional questions regarding this 1200169L1 TSU ESP.
United States of America Shipping
Orders for this Adtran 1200169L1 unit which qualify for Free Super-Saver Shipping are shipped at our discretion via the lowest cost method. We use FedEx, UPS, and US Postal Service as shipping carriers. We cannot ship this Adtran 1200169L1 within the USA by billing directly to your shipper account number. All shipping charges must be pre-paid at checkout.
International / Foreign Shipping
Adtran 1200169L1 TSU ESP units which are shipped internationally have a mandatory 4-10 business day security holding period between payment being received and shipment processing. This security policy is to allow funds to fully clear our bank account. International transport costs can be charged directly to your FedEx or UPS account number. We cannot ship internationally using your TNT account number; however you can coordinate with TNT to have them pick up the shipment from our location.
Expedited and Rush Shipping
HardwareJet.com can usually provide expedited (1 or 2 day shipping) for Adtran products; however there is an additional rush fee per unique Adtran 1200169L1 TSU ESP unit in addition to the product cost and expedited carrier shipping charges. If we can offer expedited shipping for an item, expedited shipping costs will be shown at checkout. If we cannot provide expedited shipping for an item, then you will not be presented with these options during the cart checkout process.