Adtran 1200262L1 1200.262L1 IMUX 830 890 Nx56/64 Bonding Module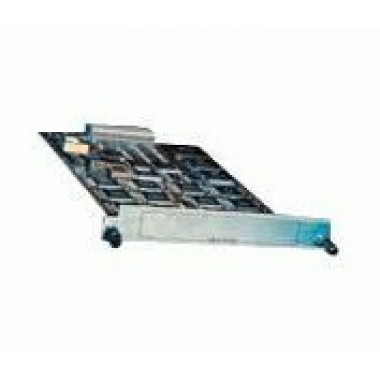 The IMUX-56/64 Module combines multiple ISDN B-channels using the BONDING Mode 1 protocol to support high bandwidth ISDN applications such as dial backup of Frame Relay or dedicated circuits. The BONDING capacity of the module is 60 DS0s or ISDN B-channels, which can be allocated according to the users needs. For example, an ATLAS system can be configured toCONNECT eight B-channels USING BONDING as a dial backup link to a remote 512 kbps ISDN device, such as the ISU 512. Similarly, the module might be configured to implement two sessions at 512 kbps, 1 at 384 kbps, and 6 at 128 kbps. Table 1 shows how many sessions can be supported at typical BONDING rates. The IMUX-56/64 Module has no external network or user interfaces. Network traffic is passed to it though other ATLAS modules such as the Octal BRI Module or the Quad T1/PRI Module.
Every refurbished, pre-owned, and used Adtran 1200262L1 for sale is fully guaranteed by our extensive 90-day warranty. Please feel free to contact us regarding our inventory of refurbished Adtran networking equipment, or if you have any additional questions regarding this 1200262L1 1200.262L1 IMUX 830 890 Nx56/64 Bonding Module.
United States of America Shipping
Orders for this Adtran 1200262L1 unit which qualify for Free Super-Saver Shipping are shipped at our discretion via the lowest cost method. We use FedEx, UPS, and US Postal Service as shipping carriers. We cannot ship this Adtran 1200262L1 within the USA by billing directly to your shipper account number. All shipping charges must be pre-paid at checkout.
International / Foreign Shipping
Adtran 1200262L1 1200.262L1 IMUX 830 890 Nx56/64 Bonding Module units which are shipped internationally have a mandatory 4-10 business day security holding period between payment being received and shipment processing. This security policy is to allow funds to fully clear our bank account. International transport costs can be charged directly to your FedEx or UPS account number. We cannot ship internationally using your TNT account number; however you can coordinate with TNT to have them pick up the shipment from our location.
Expedited and Rush Shipping
HardwareJet.com can usually provide expedited (1 or 2 day shipping) for Adtran products; however there is an additional rush fee per unique Adtran 1200262L1 1200.262L1 IMUX 830 890 Nx56/64 Bonding Module unit in addition to the product cost and expedited carrier shipping charges. If we can offer expedited shipping for an item, expedited shipping costs will be shown at checkout. If we cannot provide expedited shipping for an item, then you will not be presented with these options during the cart checkout process.