Allied Telesis AT-MR128FT CentreCOM 2-Port Micro Repeater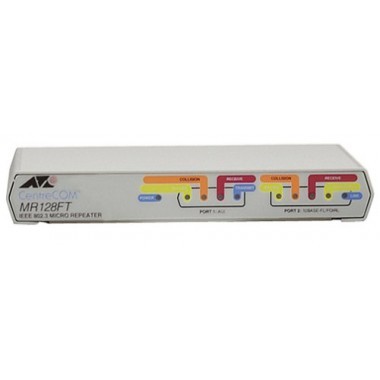 These CentreCOM Micro Repeaters are two-port media converters designed for the Fiber Link (FL/FOIRL) to Unshielded Twisted Pair (UTP) media marketplace. They allow for connection of a 10BaseFL/FOIRL segment to a UTP (10BaseT) segment. Segments on either side of the unit support full-length, fully repeated transmission and allow the maximum number of nodes specified by the IEEE. These media converters utilize state-of-the-art technologies including a custom Application Specific Integrated Circuit (ASIC) and Surface Mount Technology (SMT), which provides enhanced functionality, increased reliability and improved performance. The CentreCOM Micro Repeaters provide the complete functionality of large repeaters including packet regeneration and network partitioning. The packet regeneration results in a higher performance network by regenerating preamble, retiming the data packets and extending collision fragments to ensure collision enforcement by all nodes. The use of a custom ASIC and either an internal or external power supply makes the Allied Telesis' Micro Repeaters compact and easy to install. The units' small size allows for the repeater function to be brought to the desktop or used in a wall mount installation. Both the AT-MR118FT and AT-MR128FT have a selectable switch for full or half repeater mode. In the full repeater mode, each repeater counts toward the total repeater count specified by IEEE 802.3. In certain situations, (i.e. connections between buildings using the FL/FOIRL ports), fully repeated functionality is not needed. The half repeater mode allows a pair of repeaters to count as one repeater linking the two networks together. Network diagnostic LEDs are provided on the front of the CentreCOM Micro Repeaters to aid in troubleshooting and fault isolation. Both segments have "Transmit," "Receive," "On Line" and "Collision" indicators, as well as "Link Integrity Test" LEDs. All units also have a "Power" LED.
This Allied Telesis AT-MR128FT CentreCOM 2-Port Micro Repeater is in refurbished condition and is fully guaranteed by our 90-day warranty. Please feel free to contact us regarding our inventory of refurbished Allied Telesis networking equipment, or if you have any additional questions regarding this AT-MR128FT CentreCOM 2-Port Micro Repeater.
United States of America Shipping
Orders for this Allied Telesis AT-MR128FT unit which qualify for Free Super-Saver Shipping are shipped at our discretion via the lowest cost method. We use FedEx, UPS, and US Postal Service as shipping carriers. We cannot ship this Allied Telesis AT-MR128FT within the USA by billing directly to your shipper account number. All shipping charges must be pre-paid at checkout.
International / Foreign Shipping
Allied Telesis AT-MR128FT CentreCOM 2-Port Micro Repeater units which are shipped internationally have a mandatory 4-10 business day security holding period between payment being received and shipment processing. This security policy is to allow funds to fully clear our bank account. International transport costs can be charged directly to your FedEx or UPS account number. We cannot ship internationally using your TNT account number; however you can coordinate with TNT to have them pick up the shipment from our location.
Expedited and Rush Shipping
HardwareJet.com can usually provide expedited (1 or 2 day shipping) for Allied Telesis products; however there is an additional rush fee per unique Allied Telesis AT-MR128FT CentreCOM 2-Port Micro Repeater unit in addition to the product cost and expedited carrier shipping charges. If we can offer expedited shipping for an item, expedited shipping costs will be shown at checkout. If we cannot provide expedited shipping for an item, then you will not be presented with these options during the cart checkout process.