Polycom 2583-73545-001 4555 Video Border Proxy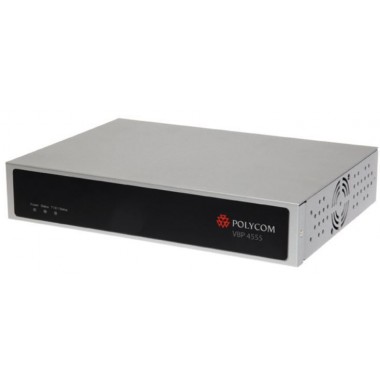 Polycom Video Border Proxy 4555 Converged Network Appliance - 2583-73545-001
***Note: This product is non-returnable for refund. However, this product is returnable for replacement if deemed defective and is under a valid warranty or maintenance contract.***

Users of standards-based video endpoints, such as the high definition Polycom HDX series room and personal telepresence systems, can now remotely and securely communicate over video on the enterprise network.
By performing video NAT at the IP address boundary, the Polycom VBP 4555 Network Appliance eliminates the risks of tunneling video and voice traffic from the network perimeter. With both an Ethernet WAN port and a software-selectable integrated T1 CSU/DSU interface, the VBP 4555 appliance can be utilized as a WAN access router or installed behind an existing WAN access router. The VBP 4555 enables remote locations using TLS to communicate with enterprise components using a single outbound port.

The Polycom VBP 4555 appliance employs a stateful packet inspection firewall, in combination with an application layer gateway, which determines when to open or close TCP and UDP ports for video and voice endpoints. To maximize video and voice quality, the VBP 4555 appliance forwards video traffic via the shortest possible path, effectively minimizing jitter, delay, and packet loss.

Bandwidth unused by video or voice is made available to boost WAN bandwidth and enable data traffic to burst at full line rate. To ensure control over video and voice quality, the Polycom VBP 4555 appliance also possesses traffic management capabilities such prioritization, traffic shaping, call entry control, and diffserv marking/policing.

The engine of Unified Communications starts with the Polycom UC Intelligent Core, a full portfolio of collaboration infrastructure solutions that enables teams to interact over voice and video anywhere, anytime. The UC Intelligent Core drives our solutions architecture by providing built-in intelligence—including resiliency, redundancy, cost-effective scale, and native integration with major UC partners—to connect the most people in the highest quality for the lowest cost.
This Polycom 2583-73545-001 4555 Video Border Proxy is in refurbished condition and is fully guaranteed by our 90-day warranty. Please feel free to contact us regarding our inventory of refurbished Polycom networking equipment, or if you have any additional questions regarding this 2583-73545-001 4555 Video Border Proxy.
United States of America Shipping
Orders for this Polycom 2583-73545-001 unit which qualify for Free Super-Saver Shipping are shipped at our discretion via the lowest cost method. We use FedEx, UPS, and US Postal Service as shipping carriers. We cannot ship this Polycom 2583-73545-001 within the USA by billing directly to your shipper account number. All shipping charges must be pre-paid at checkout.
International / Foreign Shipping
Polycom 2583-73545-001 4555 Video Border Proxy units which are shipped internationally have a mandatory 4-10 business day security holding period between payment being received and shipment processing. This security policy is to allow funds to fully clear our bank account. International transport costs can be charged directly to your FedEx or UPS account number. We cannot ship internationally using your TNT account number; however you can coordinate with TNT to have them pick up the shipment from our location.
Expedited and Rush Shipping
HardwareJet.com can usually provide expedited (1 or 2 day shipping) for Polycom products; however there is an additional rush fee per unique Polycom 2583-73545-001 4555 Video Border Proxy unit in addition to the product cost and expedited carrier shipping charges. If we can offer expedited shipping for an item, expedited shipping costs will be shown at checkout. If we cannot provide expedited shipping for an item, then you will not be presented with these options during the cart checkout process.